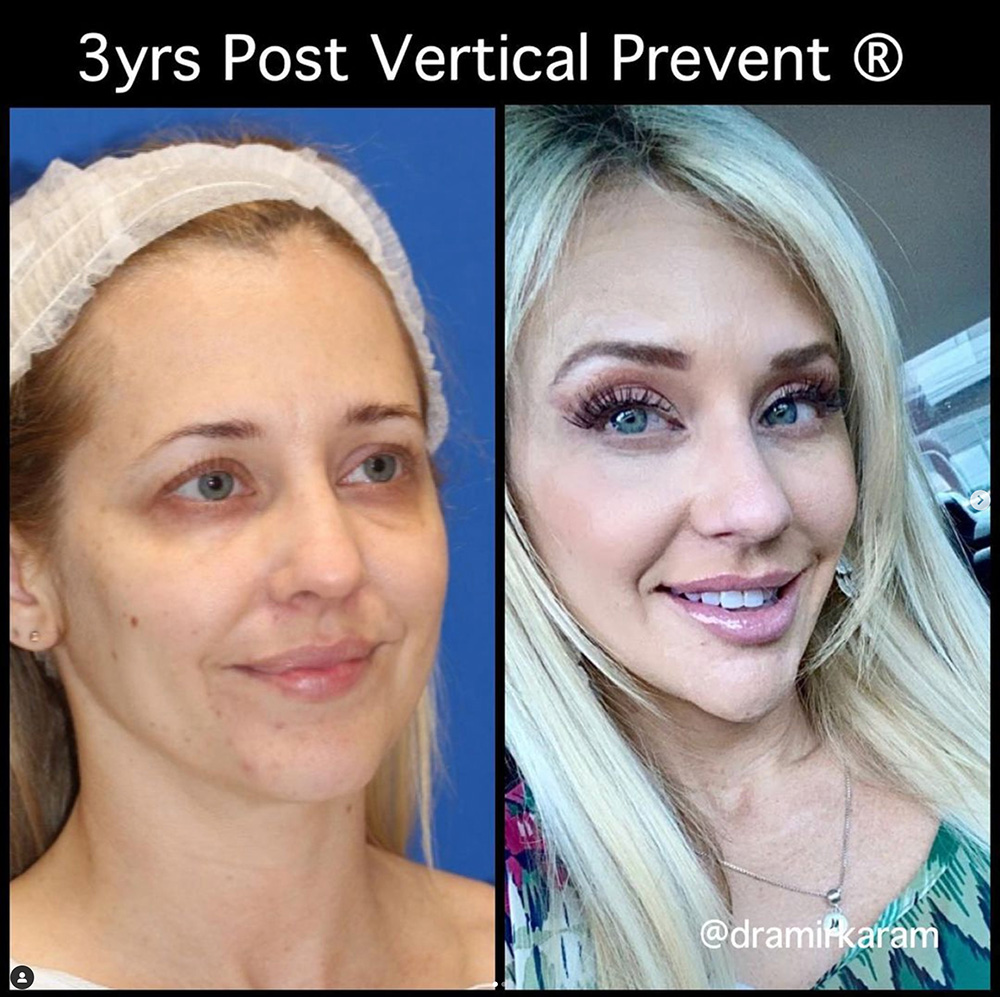 Mel, 44, looks absolutely gorgeous 🤩 and more like a 20-something than in her 40s. I love ❤️ receiving these selfie updates! She is over 3 years out from her Vertical Prevent, Fat Transfer and Lower Eyelid Blepharoplasty. She is a pediatric ICU nurse and an avid Spartan racer, and an incredibly kind and intelligent young woman from Mississippi who realized that in order to defy the early aging changes… fillers and non surgical treatments weren't going to get it done. She was smart and now the last thing she needs to worry about is aging 😊… which is totally liberating. I am beyond happy for her ❤️🙏🏻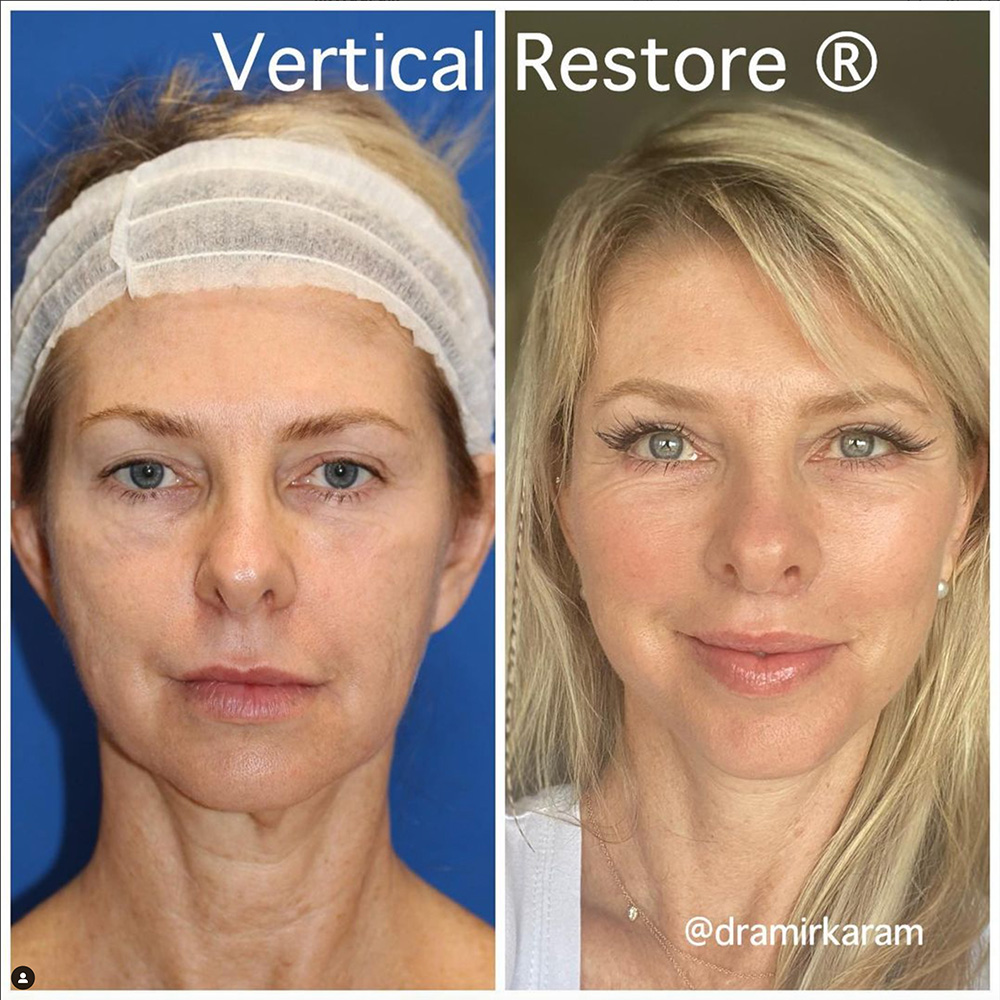 So So Gorgeous 🤩 and Natural-Looking!! Lisa is 56 years old and looks like she is in her 30s. She is a beautiful before but the normal effects of aging made her look less and less familiar to herself and tired. In simple terms… she stopped looking like she felt. This is when most people seek out a solution and like most Lisa didn't want to look like a different person and definitely didn't want to look like she had plastic surgery. So she did her research… and chose to fly out from Virginia to see me 🙌🏼😊and we performed a Vertical Restore, Fat Transfer, Upper and Lower Eyelid Blepharoplasty and Lip Lift. She looks amazing and totally restored to her youthful beauty… without any signs of work done. This is the hallmark of these outcomes… big rejuvenation yet totally natural. I feel blessed to be able to do this for my patients and appreciate their trust in me.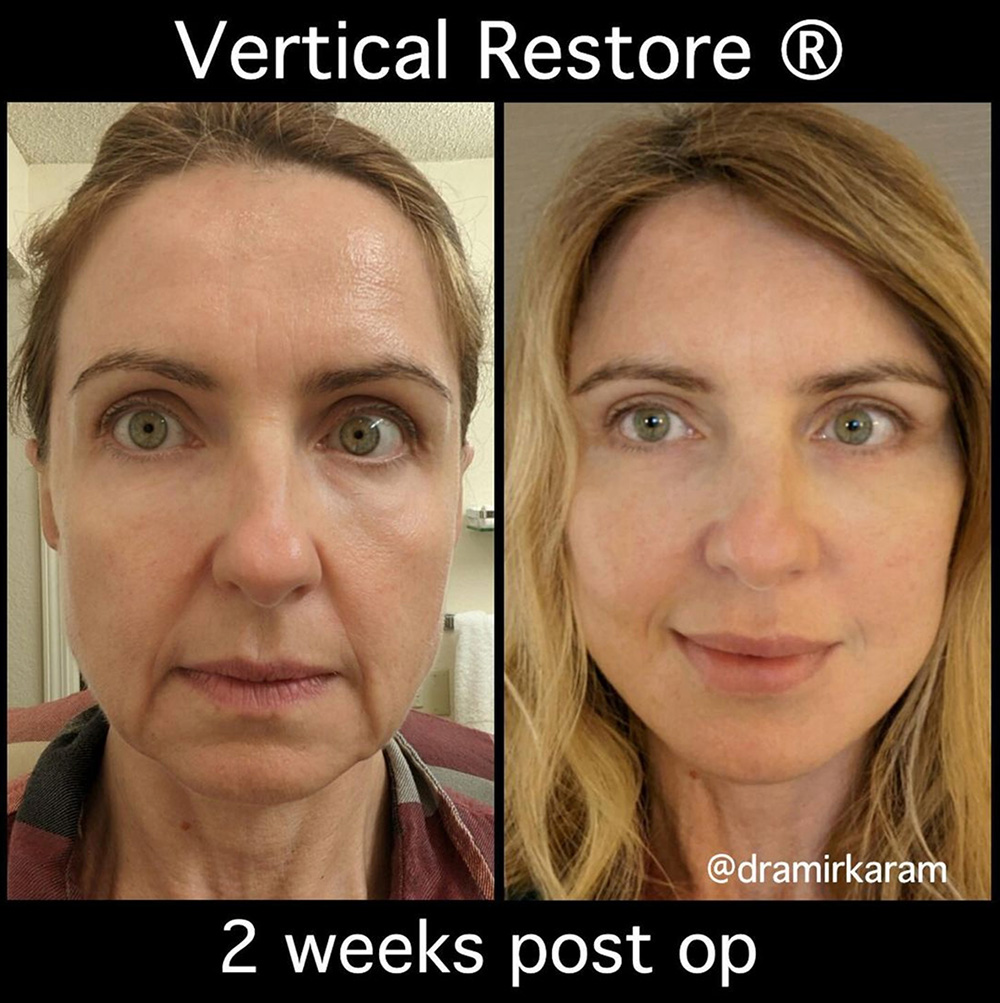 wow wow wow. Look at the facial shape restored!!! So natural and elegant. You know how much I love it when patients surprise me with their before and after selfies. These are only 2 weeks out from a Vertical Restore and Fat Transfer! How amazing does she look. At 47, she showed the normal combination of aging. The volume loss and laxity completely changed her facial shape. She could hardly recognize herself. Well… now she is back and looking and feeling beautiful and most importantly as young as she feels inside. I am so grateful she flew out to see me… it's been such a pleasure taking care of her and she was kind enough to catalog her journey day by day. Who wants to see her stages of healing?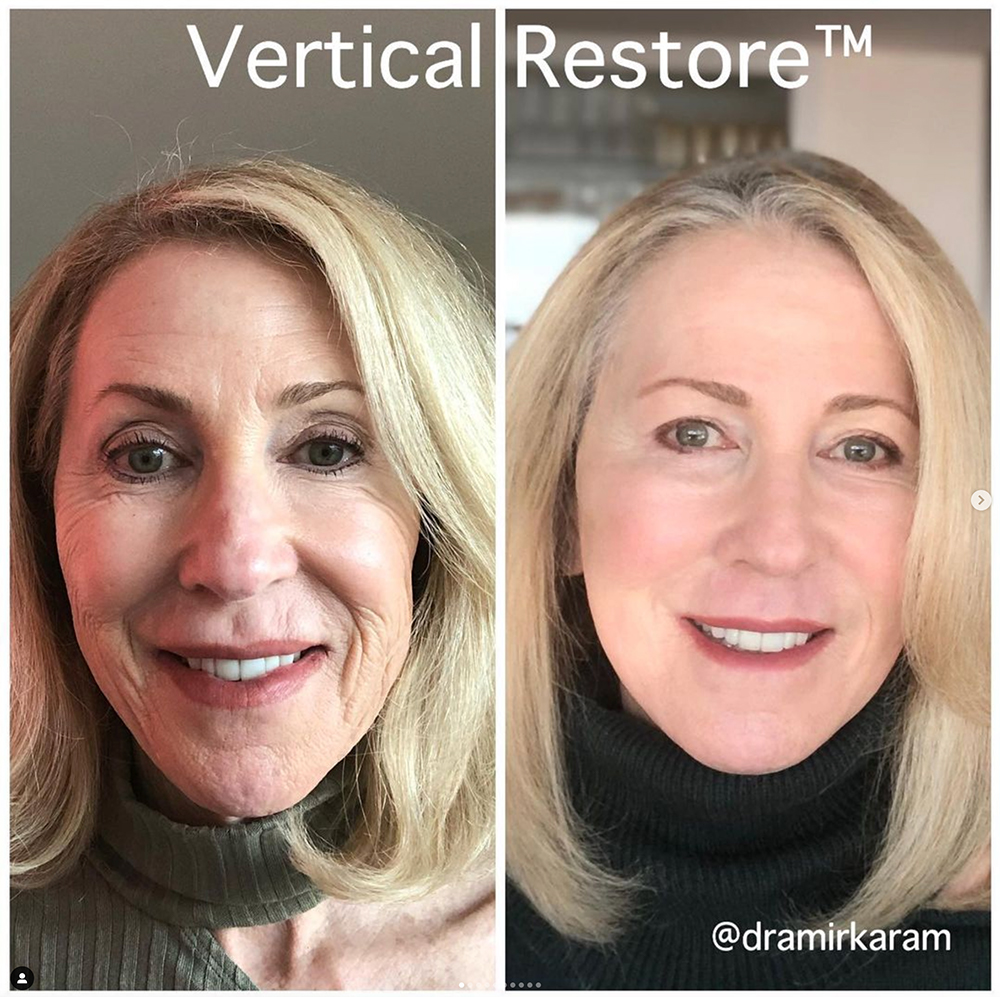 Recovery photos swipe to see step by step! Ok this is a true gift to all of you who want to know exactly how the healing process goes. This is the first of a few posts on the subject thanks to my incredible and beautiful 68 year old patient Ellen. She wanted to share her journey and chronicle her recovery for two reasons… 1️⃣ remove the stigma people have about facial rejuvenation surgery 2️⃣ to show the recovery step by step so people know what to expect. Helping women is her thing. She has a very popular blog focused on menopause in hopes to help women get through this important life transition. So this was another example of her desire to help. She also posted a lot of recovery photos and video on her feed @menopause_mondays 🙏🏻 She looks amazing but the recovery in the first week looks rough but as you will hear from her… it wasn't nearly as bad as it looked. The laser resurfacing is what makes things look even more extreme but even that settles by 2 weeks. She had a Vertical Restore, Fat Transfer, Eyes, and Sciton Contour TRL Laser Resurfacing. She is now a little over 4 weeks out. Now we are focusing on her skin and she will get started on the @karammdskin Trifecta and Botox. That's her maintenance plan. Thank you Ellen 🙏🏻.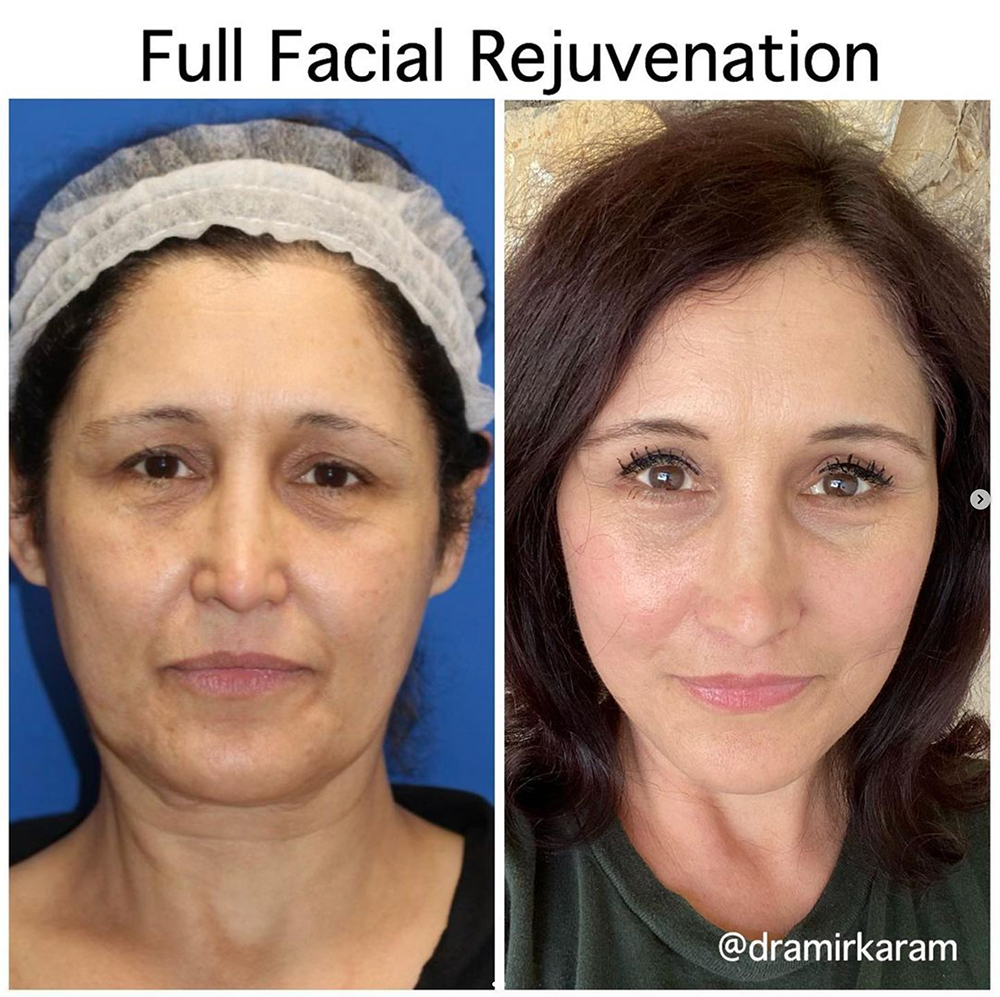 54 but looking like she is in her 30s! Shape and skin are the secret to looking young. Here's why. Ok I just love ❤️ this!! So gorgeous right? Honestly, I am so happy for Sissi! She looks decades younger and full of joy and confidence. This is what Facial Rejuvenation is about. So let me share why she looks so much younger and totally natural looking. To understand this you have to understand what a young face looks like. Here it is in a simple way. 1️⃣ Young facial shape. The young face has a V-shape firm jawline and smooth firm neck. The mid face is up and the outer brows are not pointing down. 2️⃣ The volume looks soft and healthy. 3️⃣ The skin looks bright, luminous, and smooth. This is what young looks like. What about aging? Aging causes the face to droop down and toward the mouth, causing a squaring of facial shape. The eyes sag as well. The volume deflates making the face appears deflated. The skin becomes discolored, dull, and rough. In Sissi's case we addressed all three areas during her procedure and over the last 2 months she has been using the @karammdskin Trifecta to continue to rejuvenate her skin. I love seeing that glow👌 I've learned, you can't look young without young looking skin and that is something everyone should work on… because shape is something we address surgically. Skin is something YOU manage with sun protection and the right combination of products and in office treatments.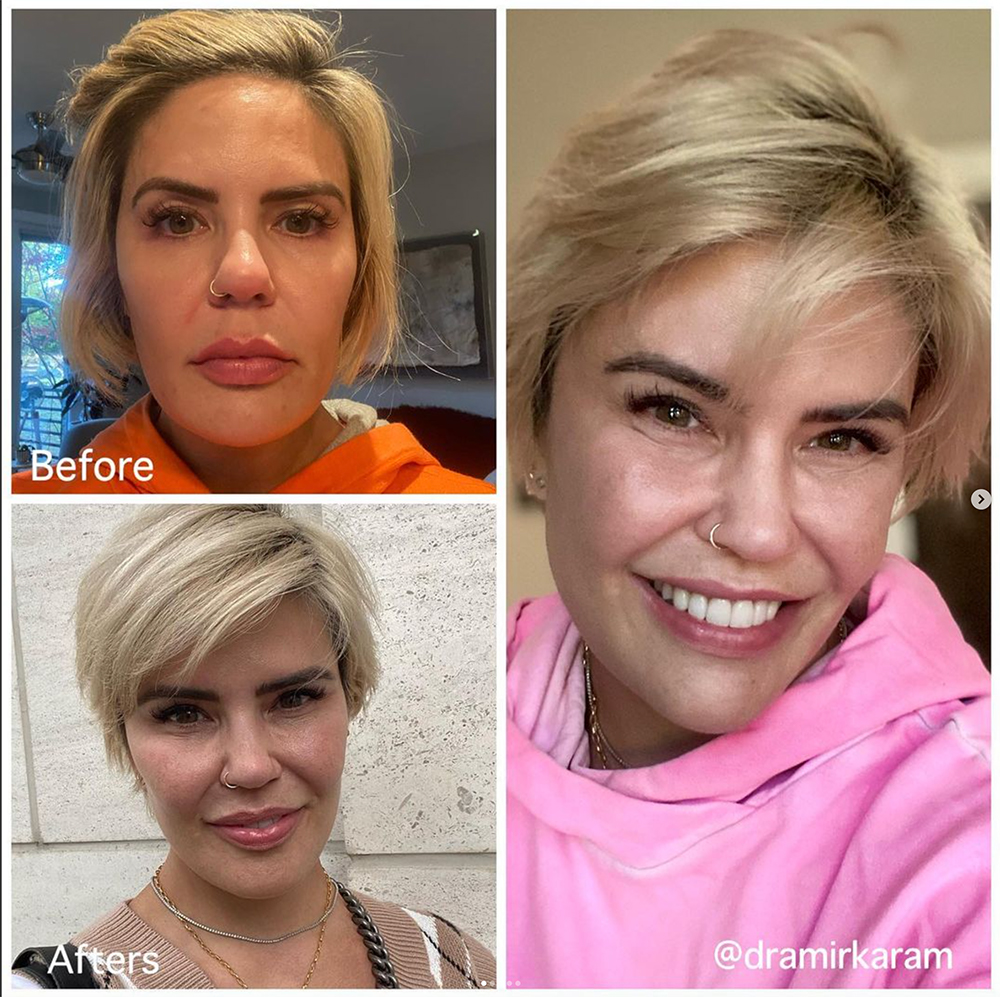 🤩 Man do I love ❤️ seeing smiles like this. Bursting with confidence and joy!! Keep swiping… I couldn't decide on the photos! She looks so good 😊 Morgan is an absolutely gorgeous 44 year-old woman who started to see sagging changes along her jawline, upper eyelids and loss of facial volume. The changes started to make her facial shape more square and she knew that using fillers or non surgical treatments were not going to get effectively address these changes and give her that youthful V shape jawline and refreshed eyes… so she flew out for a Vertical Prevent, Custom Fat Transfer and Upper Blepharoplasty. She is 3 months out and looking and feeling incredible. I am beyond happy for her 😊 and so grateful she wanted to share her journey to help more people in her age range that are trying to decide how to manage their aging process 🙏🏻. Let me know if you love this as much as I do!😊 and share this to help #spreadtheword ✨ A few key points ✅ procedures are done local anesthesia with IV sedation in our accredited surgical center ✅downtime is about 2 weeks ✅outcomes are always 💯natural looking... The Vertical Prevent difference😊.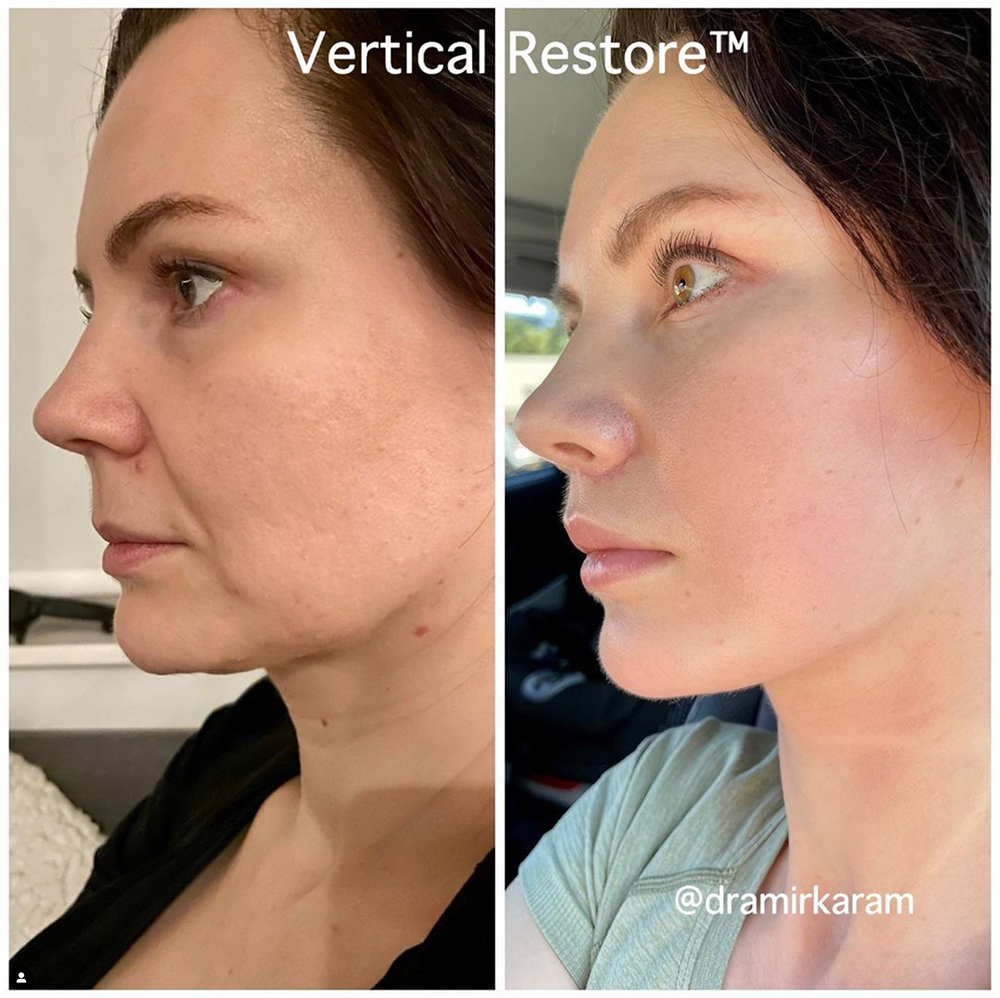 Unreal jawline🤩🤩🤩 right? I just love ❤️ receiving #beforeandafterselfies🙏🏻 The defining feature of a youthful face is the shape of the midface, jawline, and neck. No laxity in young faces. Downward decent of the soft tissues occurs as we age. Here, my stunning patient in her early 40s had a Vertical Restore and Fat Transfer and LOVING her results 😍 The reality is aging effects people at different ages. There are way more people in their early 40s who are noticing jawline laxity and have always tried using fillers to fix it. This is a mistake in my opinion. We all have seen the consequences of fillers placed in the upper cheeks in order to lift the face. Not a good look unfortunately and fillers don't always go away. With this approach it's done and the person can enjoy their youthful face for years and years to come. No more devices to tighten the face no more filler to lift the face. Just focus on life and take care of your skin. It's so liberating when you think about it right? Benefits ✅ totally natural-looking ✅ last 10-15 years + ✅ performed under local/ IV sedation ✅ 2 week recovery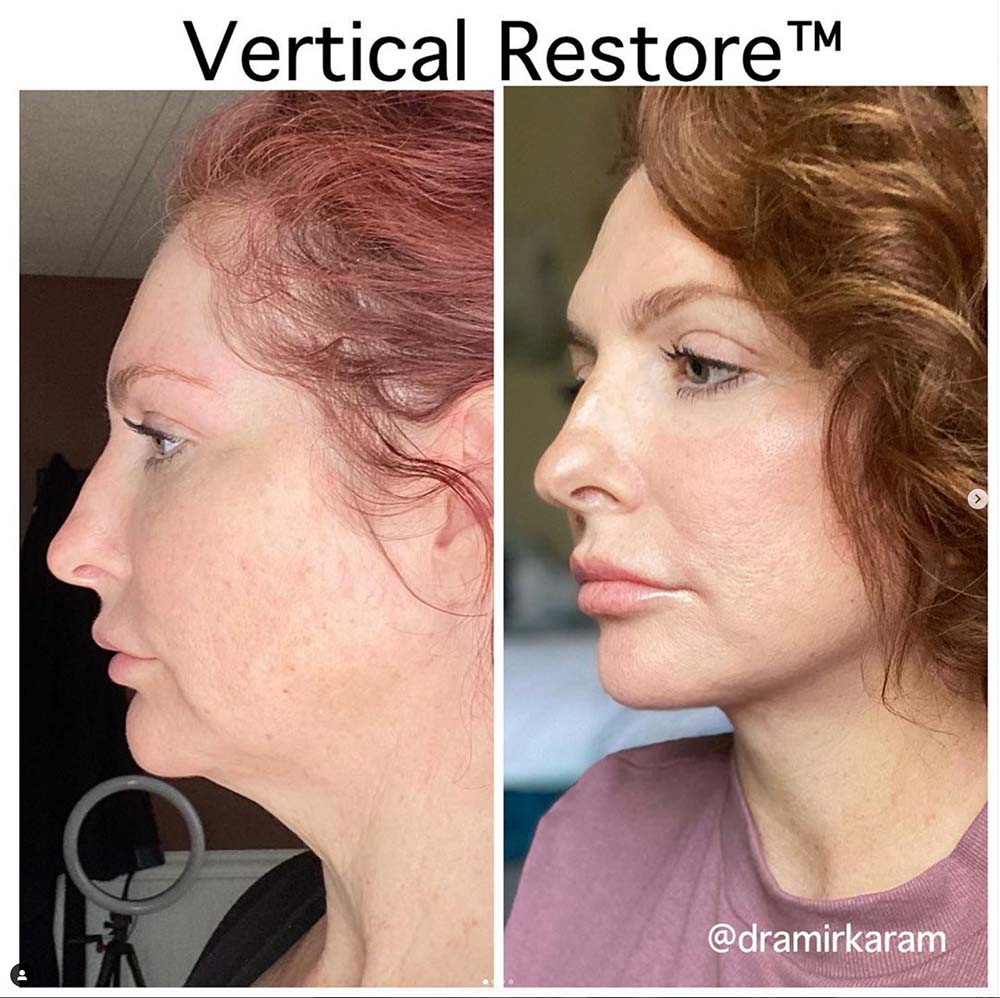 Wow wow wow 🤩! I just love receiving these recovery before and afters from my patients. Lisa is 52 and she had a #verticalrestore to address her laxity along her outer eyebrows, mid face, jawline and neck. Aging changes facial shape in an unfamiliar and undesirable way. Vertical Restore… well restores it 😊Crazy difference right? We performed a customized fat transfer to improve the negative spaces and create youthful softness. She had some excess skin in her upper eyelids so I removed it with an upper eyelid #blepharoplasty. All around it's a gorgeous rejuvenation… for gorgeous person. She looks like she is in her 30s and the best and most important part is she now looks as young as she feels. You can just feel the confidence and positive energy. The next best part is she doesn't look like she has had anything done… and she is only 5 weeks post op!!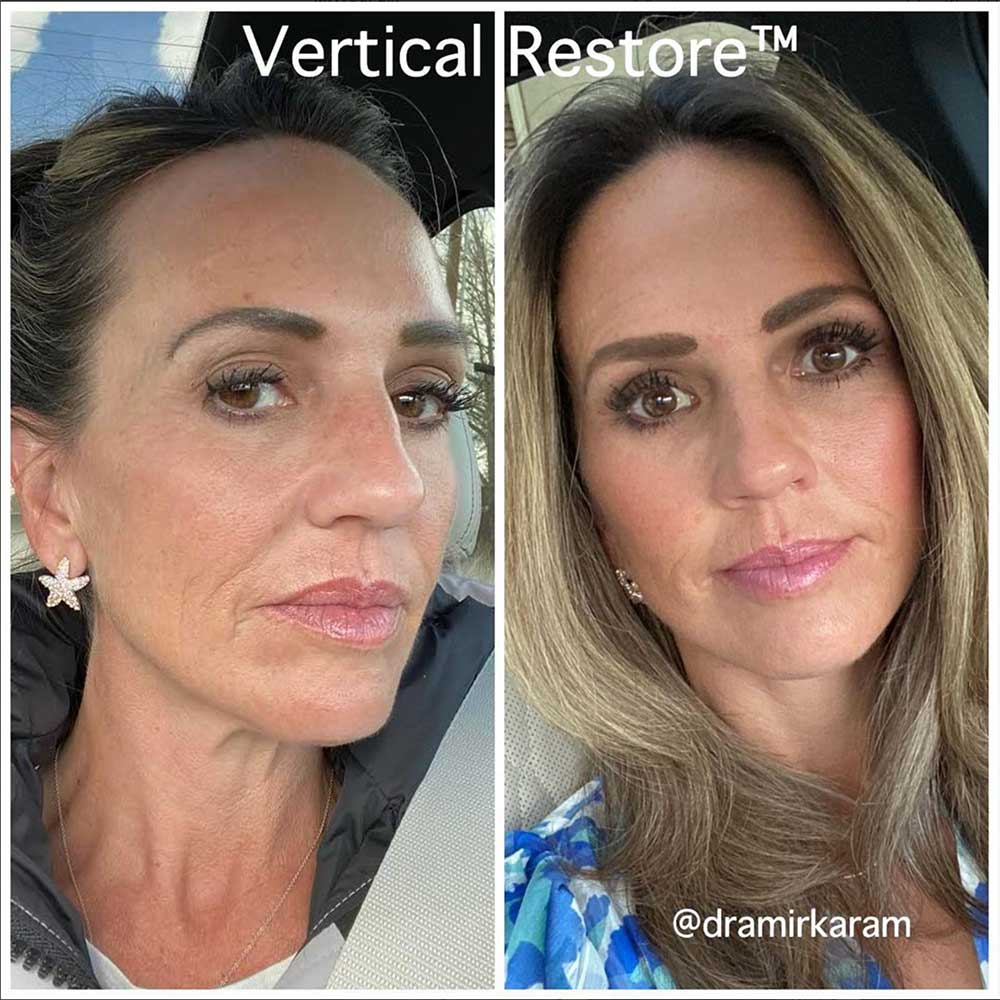 Youth and beauty preserved with Vertical Restore!!🔥 3 months after a #verticalrestore , #Fattransfer, Upper Eyelid Blepharoplasty! My beautiful 48 year old patient from Utah sent me these care selfies to show her progress and you can imagine how happy I am for her!!😊🙏🏻. You can see in the pre photos she was starting to look deflated as her facial fat was diminishing, and her soft tissues were starting to sag. This is aging and it happens to all of us. But with the above procedures, I replaced her lost volume with the fat transfer… you can see the soft fullness back throughout her face and with the Vertical Restore and Upper Eyelid Bleph, her sagging along her eyes, jawline and neck are all gone! She has been restored yet looks 💯 natural and you'd never know she has anything done 🙌🏼. I love receiving these little photo gifts and always so appreciative that my patients are willing to share their results with you all🙏🏻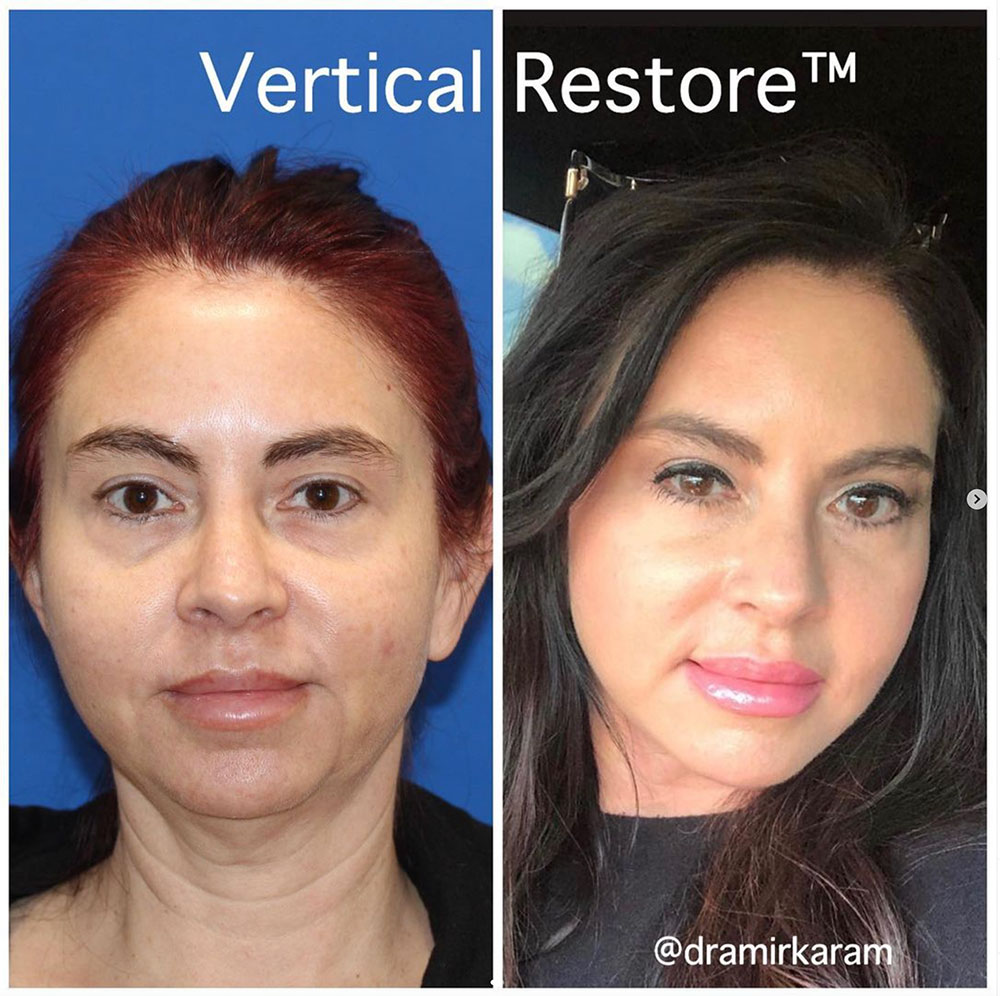 Nothing makes me happier than hearing how excited and pleased my patients are after their procedures. I just received these photos from Angelique and my jaw dropped. I love seeing seeing MoJo restored. People underestimate how aging negatively effects our self image and self confidence… but after these procedures it's regained! You can feel it in the after photos 😊 Angelique was 49 years old and visited me from San Antonio, Tx. She is the kindest person and seeing this outcome and the boost in confidence and hope that comes with it makes me feel so grateful to have a role in this journey. She is over 6 months post op from her Vertical Restore and looks absolutely INCREDIBLE 🔥🙌🏼. 20 years younger. Look at that jawline and neck! What's cool in this case is I did a buccal fat removal to create a more slender cheek and jawline. It's amazing what that did to the facial shape.. she looks so pretty, elegant and totally natural looking🤩This is really what it is about!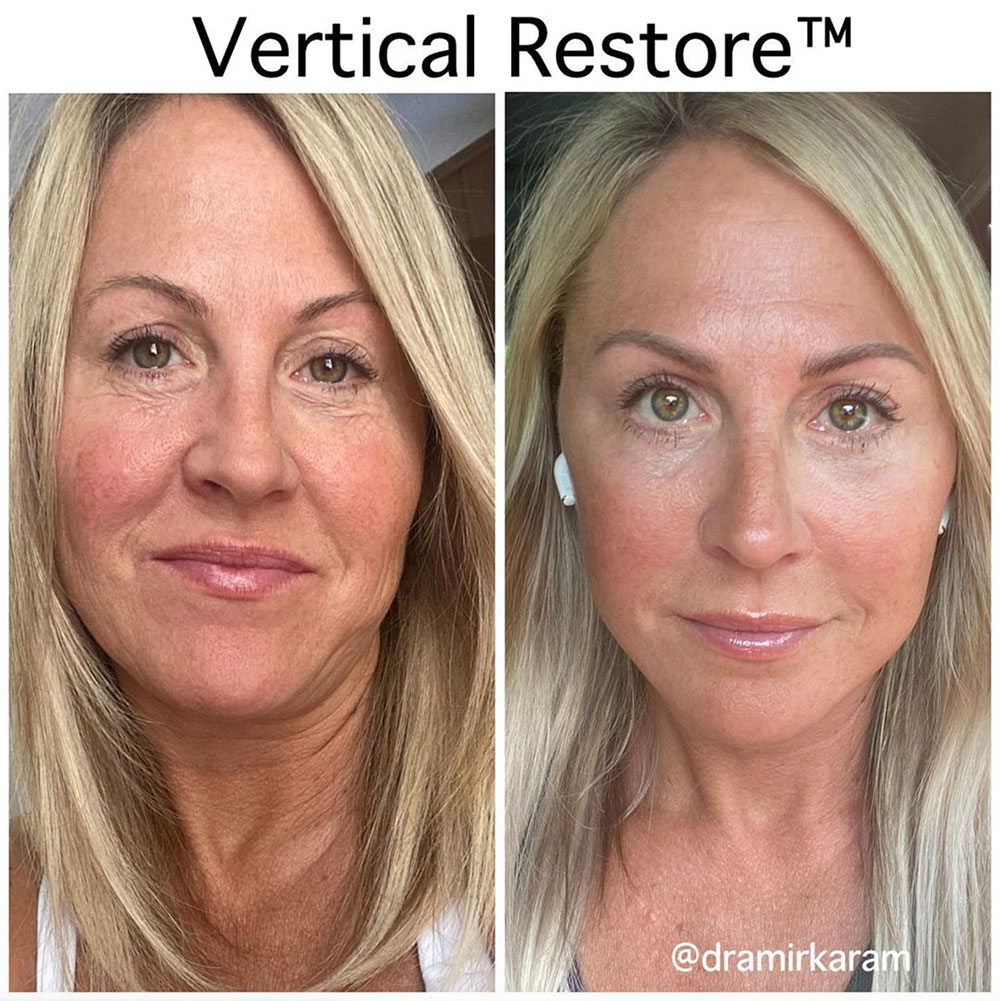 Subtle yet dramatic🤩Tara is 49 years old and looks beautiful before and after her Full Face Rejuvenation… the only difference is it looks like someone (me 😊) took a magic eraser and wiped away the aging changes 😊🙌🏼. Ultimately, that's what everyone wants… to still look like themselves minus all the unwanted aging changes. It can be done! Tara is 4 weeks out from Vertical Restore, Customized Fat Transfer. I think she easily looks like she is in her 30s and completely natural looking dispute still having some healing left. She is so happy and I am too!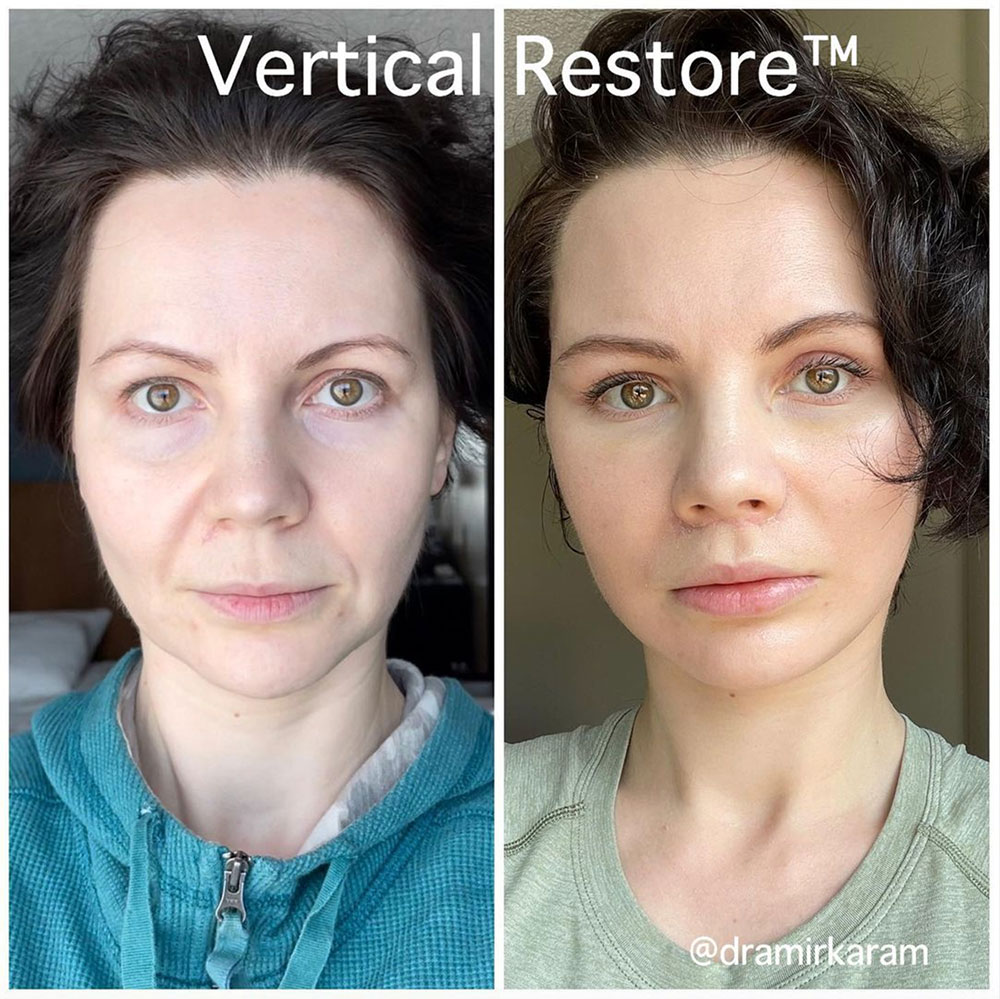 Wow wow wow 🤩 Subtle yet dramatic. Only 2 weeks out from Vertical Restore, Fat Transfer, Lip Lift and Upper Blepharoplasty. Anna is gorgeous, however at 41 she felt her youth and beauty were slipping away sooner than it should. She felt she looked tired and didn't like seeing these aging changes advancing so quickly. She traveled from Washington to address these changes fundamentally and regain her youthful beauty. She knew using fillers and other non surgical treatments wouldn't properly address her changes at this point or more importantly stop them from advancing. But this combination she had will. She can expect to enjoy looking like she is in her 20s for years and years to come 🙌🏼. I am beyond happy for her and so grateful she is sharing her photos and journey. We are treating more and more patients in this age range and getting the word out is key to helping bring awareness 🙏🏻❤️.